Cellists spend a lot of time sitting down playing their instruments, so it's important that they have comfortable chairs to sit in while playing. Having the right cello chair prevents cellists from having back problems when they are sitting by offering plenty of comfort and position the chair in a lean-forward position so that they have optimal posture while playing cello. Read out to learn about our favorite cello chairs.
Best Cello Chair
Foldable, padded, and portable, the Adjustright chair is the comfiest cello chair that you can get which you can carry anywhere.
Best Cello Bench
Foldable, padded, and portable, this bench is a simple solution for a portable cellist bench.
Wenger is a famous Swiss company known for making watches, Swiss Army knives, and musical instrument accessories, such as cello chairs. This cello chair has a cushioned seat with an angle to promote posture. The seat is covered with a nonslip surface to make sure that even with the angle, cellists don't slide off.
Adjustrite Folding Musician's Chair
The Adjustrite Folding Musician's Chair is made for cellists who frequently travel. The legs fold up so that you can easily pack this in a car and extend in 1″ increments so you can properly adjust the height of the cello chair. At only 19lbs, it is a breeze to carry as well.
The seat is well-padded with a slight downward angle to promote great posture while playing the cello.
Flash Furniture Hercules Series Music Chair
The Flash Furniture cello chair is part of their Hercules Series and are quite affordable, especially for for large orchestra settings. The flared legs provide support to cellists of various levels and ensure the correct pitch for cellists. additionally, the seat is contoured to ensure students sit upright and forward in the chair.
Wenger Nota Standard Music Posture Chair
The Wenger Nota Standard Music Posture Chair enfores great posture while playing cello. It features two seating areas: the rear zone (engaged), and the perched (forward) zone. These zones help reduce muscle strain and promote a healthy skeletal shape. The chair accommodates a wide range of body sizes and the narrow back provides lumbar support while also giving a wide range of motion for the cellist.
Kuyal Piano Bench Adjustable Padded Bench
Designed originally for piano players, the Kuyal Piano Adjustable Padded Bench can also be used by cellists. The bench-style will teach students to lean forward to play instead of slouching or leaning back in a typical cello chair. The padding is very comfortable. This is a great option if you need a portable chair or want to reinforce proper cello posture with your students.

A great folding option for transport, the Juvale Folding Chair is very comfortable and portable. Its foam-filled seat offers extra comfort for cellists and the nonslip cover makes sure that even when cellists are leaning forward, they won't slide out of the cello chair. The frame of the Juvale cello chair is made from stainless steel which ensures the longevity of the chair.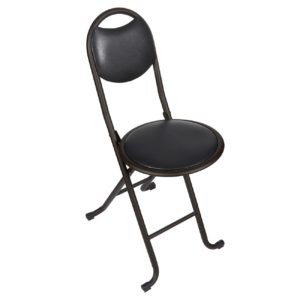 Whichever cello chair you end up choosing, make sure that it is comfortable and fits in your space. If you travel a lot, make sure that you get one that folds easily so you can store it in your car or house. We hope that one of these cello chairs will meet your needs.